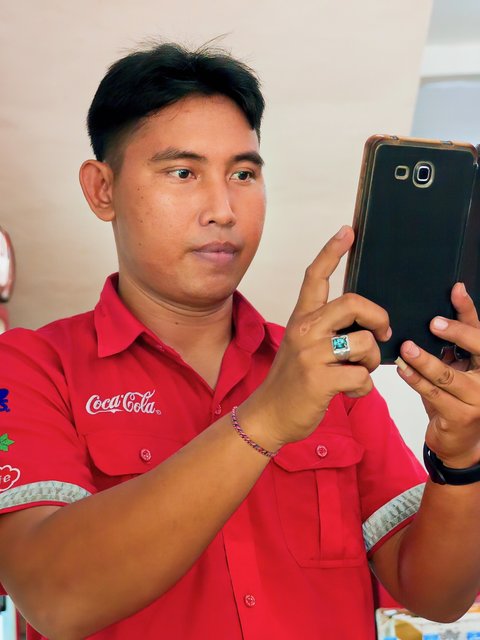 The Coca-Cola Company
Next-generation sales enablement.
Coca-Cola is one of the world's most recognisable and valuable brands, with a rich history and a presence in over 200 countries worldwide. 
In most of those markets, The Coca-Cola Company operates a franchise model, licensing the manufacturing, sale and distribution of Coca-Cola's 50+ brands of beverage and food products to a network of regional bottlers who are entrusted with nurturing the brand and growing the business in their respective territories.
Each regional bottler relies on a team of highly-trained sales representatives, who are the primary interface with Coca-Cola's diverse range of customers around the world, including supermarkets, cafés, restaurants and convenience stores.
Since the reps are the lifeblood of the sales organisation, it's critical that they're armed 24/7 with the most up-to-date information about their customers - such as stock levels and performance metrics - as well as the latest merchandising opportunities, offers and promotions.
"In recent years, technology has played an increasingly important role in enabling the success of our global sales team, and Smudge has been a key partner on that journey", explains Barry Simpson, Chief Information and Integrated Services Officer at The Coca-Cola Company.
Smudge's relationship with the Coca-Cola system dates back to 2014, when we started creating sales force automation (SFA) tools for Coca-Cola Amatil, the largest bottler in the Asia Pacific region. Those tools have since been rolled out across Australia, New Zealand and Indonesia, enabling CCA to revolutionise their sales process.
Innovation at pace
Building on that expertise, in 2019 we began working with The Coca-Cola Company on a best-in-class next-generation SFA tool that could be used by any bottler, anywhere in the world. That solution became known as PACE, an acronym for one of the key goals of the project: profit acceleration with consistent execution.
The initial build of PACE was a collaboration with Coca Cola's Bottling Investments Group (BIG), a collection of 19 bottlers spread across Southeast Asia, the Middle East and Africa that is wholly owned by the Coca-Cola Company. "We always said that BIG should be the best example of the bottling system; in terms of how it works with the company, the technology and the platform", says Barry.
PACE is part of a larger initiative within BIG designed to drive growth by empowering the sales team to think and act more strategically. When sales reps have trusted, intuitive tools that work in the right way, they're able to move from taking orders to front-footing opportunities and work more collaboratively with customers. Over the long-term, the cultural impact of this approach will drive significant benefits for the business.
Building PACE with BIG gave us the opportunity to roll out the solution across a diverse range of markets, starting with Singapore, Malaysia, Philippines and Vietnam. In these four markets alone, BIG has over 5,000 sales reps servicing more than a million Coca-Cola customers.
PACE is designed as a holistic SFA solution with three distinct elements: an Android app for the field sales force, a web-based admin tool for pushing content to the mobile devices, and a cloud-native middleware layer. Since Smudge designed and built the entire solution from the ground up, we were able to streamline development and project management, enabling us to move very quickly.
Scalability meets flexibility
Every bottler in the Coca-Cola ecosystem is unique. Each has its own culture, it's own business goals, and it's own technical infrastructure that has evolved over time based on the needs and conditions of the market. So we determined early on that PACE would need strong scalable foundations while providing individual bottlers with the flexibility to adapt the solution based on their unique conditions (such as region-specific loyalty schemes and custom integrations with local vendor systems).
Before writing a single line of code, our team visited the five markets earmarked for the initial rollout. The primary goals were to observe how the sales representatives live and work, to establish differences and similarities between markets - including roles and responsibilities within the country sales teams - and to better understand the nuances of regional go-to-market strategies, such as sub-contracting arrangements with distributors and third-party logistics / fulfilment vendors.
To help provide the required flexibility and modularity, we designed a microservices architecture based on Microsoft Azure cloud services. This decoupled architecture enables every bottler in the ecosystem to host a separate instance of the solution, while allowing for adaptations to meet specific regional requirements, including custom functionality and integration with a diverse set of existing third-party systems.
The use of serverless platform-as-a-service (PaaS) technologies for compute, database, storage and messaging gives each bottler sovereignty over their own environment, so they can control their own data and make changes to the environment as their needs change. Regional bottlers can also support the system locally, using their preferred support partners in their local time zone.
Since PACE uses APIs that are built using industry-standard conventions, we can integrate the middleware layer with almost any existing or legacy systems, as well as new systems and applications as they are brought online. This intrinsically interoperable architecture allows for seamless customisations without compromising integrity, enabling individual bottlers to develop capability that is important locally while benefiting from global best practice design and technical work. 
Furthermore, since each bottler is billed for cloud services based on a consumption model, the solution is financially viable for franchises with a large number of end users as well as smaller ones with fewer reps in the field. 
Barry sums it up neatly: "With the PACE project, in record time, we've gone from idea to implementation. And this is the start of the journey. We're not finished yet, we're going to iterate and we're going to get better. It's been an awesome outcome".
"

In recent years, technology has played an increasingly important role in enabling the success of our global sales team, and Smudge has been a key partner on that journey.

Barry Simpson, Chief Information and Integrated Services Officer, The Coca-Cola Company
4
countries across SE Asia.
1M
Coca-Cola customers served.
5,000+
sales reps using the app every day.