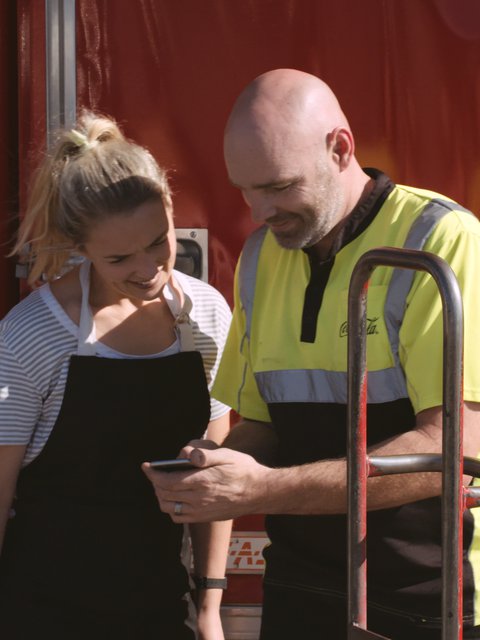 Coca-Cola Amatil
Reimagining a 360-degree sales process.
Coca-Cola Amatil (CCA) is one of the world's largest Coca-Cola bottlers, distributing Coca-Cola's 50+ brands of soft drinks, coffee, water, juice and healthy snacks across the Asia Pacific region.
With over 125 years of heritage, Coca-Cola have a highly-optimised global sales process. At the centre of this process sits a team of sales reps, who represent the brands on the ground and look for ways to grow the business by interacting with customers such as supermarkets, cafés and convenience stores.
With more than 5,000 sales reps servicing over 800,000 customers across the region, one of CCA's biggest priorities is to provide their reps with tools to make them as efficient as possible. For the last nine years, CCA have relied on Smudge to help deliver that vision through a suite of mobile apps.
Facilitating meaningful interactions
Greg Pike, Head of Sales Mobility Solutions for Coca-Cola Amatil, explains: "Our field service team are one of our biggest competitive advantages. Their interactions with customers are the core of our business". And with around 30 customers to see each day - with an average of seven minutes spent with each customer - every minute counts, and every interaction needs to be meaningful.
Prior to the adoption of the current mobile solution, each CCA rep carried a laptop, and used spreadsheets to track and report on customer performance. "We used a lot of disparate systems and the customer conversation was getting buried", says Greg. "The technology was creating a barrier between the reps and the customers. We knew there had to be a better way".
The first of the apps delivered by Smudge was called SaM, an iPad app that provides CCA reps the information they need about a customer and their own performance — anywhere, anytime. This helps the reps prioritise what's important, in a way that maximises human interaction.
Driving efficiency and collaboration
"We wanted the technology to get out of the way", explains Greg. "So we designed the app with both the rep and the customer in mind. The device has become a collaboration tool that enhances the dialogue between people".
SaM provides the reps with bespoke sales resources dynamically generated for each customer, including projected profit for the customer based on CCA's advanced sales analytics and contextual insights.
Greg confirms: "The app provides a powerful tool to model merchandising displays and showcase more profitable product mixes. Store owners are delighted when their CCA rep shows them how they can make more money".
The app automates a lot of tasks that were previously done manually. Before SaM, when visiting a customer, 70% of a rep's time was spent entering data. With SaM that data is pre-populated and the order can be transmitted in real time.
"Another great feature is automated merchandising compliance", says Greg. "Previously the reps had to manually count the number of bottles in a fridge. Now they can take a photo of the fridge on their device and get real-time feedback on a customer's compliance and performance".
All these small wins add up to a lot of time saved. Compared to before, a rep saves about five minutes on each sales call. With around 30 customer meetings each day, that's a lot of time that can be repurposed for more strategic conversations.
An end-to-end workflow
Greg believes the impact of the transition to mobile has been far-reaching: "Whilst the app itself has been transformational, the process we went through as an organisation was equally important. Since SaM was rolled out, it's totally changed the way the reps approach their job. We've incorporated feedback from the field all the way through the process, and we've continued to evolve the apps as the rep's job has evolved".
In the last six years, Smudge has built an entire suite of mission critical apps for CCA. These apps have revolutionised the roles of everyone in the sales process: from delivery drivers to vending machine fillers and even sales managers, who now have access to a coaching app that helps them identify areas where the reps can improve their performance.
Greg concludes: "All these apps in combination give us the tools to manage and monitor an end-to-end workflow for our customers and reps. With these solutions, we can be confident that everyone in the CCA ecosystem is acting as productively and strategically as possible. That gives us a major competitive advantage that has transformed the way we operate in the field".
"

Smudge are a strategic partner for Coca-Cola. It's great to work with people who just get it. The culture and capability is fantastic, and they have consistently exceeded our expectations.

Barry Simpson
Chief Information and Integrated Services Officer, The Coca-Cola Company
5,000
+
sales reps using the app every day.
800,000
customers across the Asia Pacific region.
30
customer visits each day.
7
minutes spent with each customer.