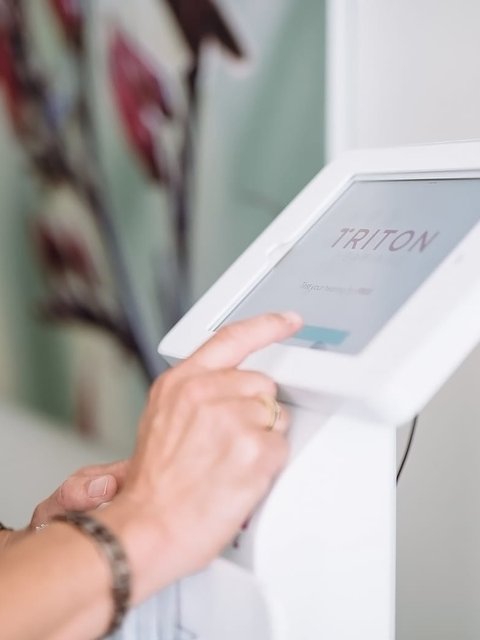 Triton Hearing
Reconnecting people with the world they love.
Hearing loss is surprisingly common, and left untreated can have an impact on how people live their lives. The sooner people do something about their hearing health the better.
Even when people are aware that their hearing has deteriorated, many are reluctant to seek help or don't know where to start.
For over 20 years, Triton Hearing has been New Zealand's most trusted name in hearing healthcare, acknowledged nationally and internationally as an innovator in its field. One of the most important goals for the Triton team is to reduce the barriers and stigma around hearing loss, by making it easy for anyone to seek help if they suspect their hearing is deteriorating.
Taking the first step
To help tackle this goal, Triton turned to Smudge to design a custom app for their Hearing Kiosk, an iPad testing station that has been rolled out in over 150 pharmacies and medical centres around the country. Triton's Hearing Kiosk provides a free and easily accessible way for people to test their hearing in their own time, without needing to book an appointment in a hearing clinic.
To say this approach is working would be an understatement. To date over 150,000 New Zealanders have taken the iPad test, most of whom were taking their first steps towards better hearing. Following the self-screening, customers are able to book an in-person appointment at one of Triton's 60 clinics to get a full diagnostic hearing test.
Triton's Managing Director James Whittaker explains: "We were introduced to Smudge by our IT provider, and from the outset we could see they were keen to understand our business and what we were trying to achieve".
When designing the interface for the kiosk, one of our key goals was ease-of-use. We knew the app would be accessed by people of different ages and varying technical abilities, so we set out to create a simple and accessible interface with clear prompts to guide the user. We also built in a persistent progress bar to orientate users and encourage them to complete the test.
Another pre-requisite was accuracy. The Triton and Smudge teams worked closely with an audiologist from the University of Canterbury to create a test that dynamically adjusts to the user's responses, serving up the most appropriate audio prompts to gauge their level of hearing loss as accurately as possible.
All the iPads in the fleet can be administered by a central management tool, enabling the team to remotely update content or software, and gather data from the devices in just a few clicks.

A life-changing interaction
When Stephen, a 34-year old father of three from Auckland, walked into the Unichem pharmacy in Takanini, little did he know it would be the start of a transformational journey.
He explains: "I was waiting for a prescription and decided to take the iPad hearing test. I was called within a week and booked in for a hearing test. I was surprised to find out that I had mild to moderate hearing loss".
"The first time my hearing aids were turned on, I was hearing things properly for the first time in years. I had no idea how much hearing loss was affecting me. Without realising it, I had changed my life to avoid situations where I wouldn't be able to hear. I had stopped interacting and engaging with the people around me because it wasn't enjoyable to be in a group of people".
Innovating for good
Over the last year, the iPad Hearing Kiosk has reached more people than ever, as Triton's parent company Sonova - the world's leading hearing healthcare company - has rolled out testing stations in a number of international markets.
Innovation is in Triton's DNA and we look forward to continuing our partnership by helping more people take the all-important first step towards overcoming their hearing loss.
James Whittaker acknowledges: "Our app innovation is ongoing and will continue to be so to meet the ever-changing needs of the New Zealand public. It's good to have a partner that can keep up (and ahead) with what we need".
"

Smudge has been able to achieve something I am always seeking: the ability to fully deliver on all of their promises. Our iPad testing initiative has been a key driver in our double-digit growth in both volume of clients we have helped hear better, and our brand awareness in New Zealand. Smudge has played a key part in our success, and for that I am extremely grateful.

James Whittaker
Managing Director, Triton Hearing
100,000
New Zealanders have taken the iPad hearing test.
150+
pharmacies and medical centres have the Triton kiosk solution.